Jamie Lee Curtis Launches Cool Storybook App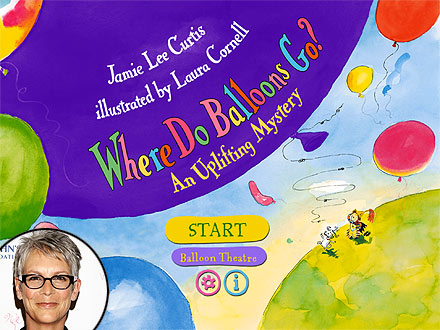 Inset:Tommaso Boddi/WireImage
Children's book author Jamie Lee Curtis is taking her books from the shelves to the (tablet!) screen.
Launching her first ever interactive storybook app based on her hit Where Do Balloons Go? An Uplifting Mystery, Curtis narrates the mysterious journey of one little boy's lost balloon through a follow-along set-up paired with adorable, animated illustrations.
"I am blown away, excuse the pun," Curtis says. "This is the most cutting edge and creative venture I have ever been involved with and I'm so pleased that it captures … the story of losing a balloon and all the emotions that it brings."
In addition to storytime, your little bookworm will love exploring the other interactive features.
They'll have loads of fun creating their own animal balloon-themed movies, practicing their helium-filled voice, sending family and friends faux postcards from their own lost balloon experiences and using the virtual fan to send a slew of balloons flying!
And, along the way, maybe they'll even solve the case — or at least come up with a few imaginative ideas!
– Anya Leon