Pink: 'Partying Naked' Has Changed Since Becoming a Parent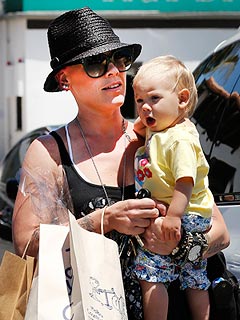 Splash News Online
Motherhood hasn't stopped Pink from living it up on a regular basis, but her ways of celebrating have indeed been altered.
Explaining that it's "so much cooler" adding daughter Willow Sage to her and hubby Carey Hart's travel group, the pop singer, 32,told Philadelphia's Q102 radio station on Wednesday, "We wake up and dance. [We] party naked in the hotel room."
But she goes on to say that late nights with her little one in tow aren't quite the same as the ones had when it was just with Hart, 36.
"It's a different kind of partying," Pink says, of what now consists of "diapers and underwear."

Dropping her raging rituals included kicking her vices to the curb.
"It used to be whiskey, tears and cigarettes," she says. "Now it's [my baby's] kind of tears, no cigarettes and the color of poop. Pure joy. I miss the whiskey, not the cigarettes."
The "Raise Your Glass" singer's new upbeat, healthier outlook on life will be reflected in her new album, The Truth About Love, slated to drop in September.
"I do a lot of dancing now with [Willow] and I'm just happier," she says. "This album is a lot of rock and roll but it reflects that there's a dance party in our house … Your career goes up and down, but … at the end of the day, if I didn't do another thing, I'm blessed. I like myself more than I used to."
— Dahvi Shira