Salma Hayek: I Would Give Up Acting for Valentina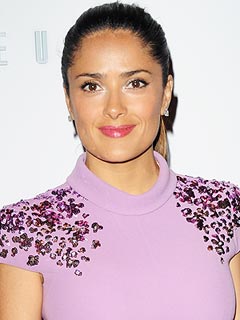 Stuart Wilson/Getty
Salma Hayek has said it before — and she's saying it again — when it comes to traveling the globe, there's no better companion than her daughter, 4½-year-old Valentina Paloma.
"It's working out really well. [Valentina] is really smart and she's really young," the Savages actress, 45, tells USA Today. "If later on it gets in the way of her development, I'll just stop working."
Making the balancing act between her kid and her career easier is the consistency of working alongside fellow actors (and fathers!) Adam Sandler and Kevin James.
"For right now, it works. I work mostly in the summers. I usually work in the Sandler family or with Kevin James," Hayek, who is currently shooting the Grown Ups sequel, explains. "I'm really good friends with the wives and the kids are the same age. It works out for me."

When the day does comes, however, where Hayek feels her daughter needs more structure, she will be more than willing to step away from the spotlight. "If in the future, she has to stay in Paris and it's too much of a separation, I'll stop working," she explains.
During those few occasions when the going gets tough, Hayek relies on her biggest fan to keep her focused: husband François-Henri Pinault.
"I get a lot of help from my husband. You have to have a partner. When I get freaked out, he's like, 'Don't worry, it will work itself out. How can I help you?'" she shares. "He calms me down. I am more hysterical than he is."
Noting that it's "very easy to bail out," Hayek doesn't take her strong support system for granted, saying, "A lot of women don't get support in their professional lives from their husbands."
— Anya Leon