Pink: Willow Is Still Breastfeeding (And Not Biting!)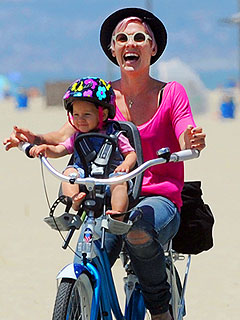 Splash News Online
Leave it to a new mom to be a master at multitasking!
Pink, whose daughter Willow Sage with husband Carey Hart is 13 months old, called in to Ryan Seacrest's KIIS FM radio show Monday morning … while breastfeeding.
"She's got six teeth," Pink said of her little one, but "she's not a biter."
The singer, who released her new tune "Blow Me (One Last Kiss)" on Monday, told the radio host that she had just switched sides and revealed, "My left is a lot more talented than my right."
In addition to promoting her new song (which will be on an album due Sept. 18) and her participation in the I Heart Radio Music Festival on Sept. 21 and 22 in Las Vegas, Pink said motherhood so far has been "amazing."
But fans shouldn't worry about her music: Pink said being a mom hasn't made her soft.
"Some people are worried [my new album]'s going to be a bunch of lullabies. It's definitely not," she said. "I'm more aware of the cursing. It didn't stop me but I'm aware of it. It's a very, fun, dance-y, rock-and-roll record."
As for Willow, who's already walking and dancing, Pink says she "has her Daddy's looks and my attitude. She's going to rule the world."