Jake Owen: I'm 'Scared' to Have a Daughter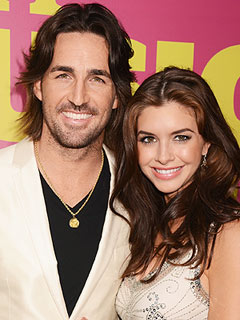 Jeff Kravitz/FilmMagic
Shock and awe just isn't for Jake Owen.
When the country crooner, who is admittedly not a big fan of surprises, found out he and his wife Lacey Buchanan Owen were expecting their first child, the father-to-be became a man on a mission.
"I was like, 'Let's find out what the baby is.' I wasn't into the surprise of it," Owen, 30, tells CMT.com. "I was already surprised when I found out she was pregnant!"
As the singer recently told PEOPLE, the couple — who wed in April — are thinking pink; they will welcome a daughter in November.

"I was scared at first because I don't know anything about girls," Owen says, adding they have picked out names, but are keeping their favorites under wraps.
Currently on tour with Tim McGraw and Kenny Chesney, Owen — who is determined to "maintain my focus" — has been taking full advantage of his time spent with McGraw, himself a father of three girls.
"Even doing what we do, guys out here show that it's possible to be a good dad," he explains. "Tim was just outside working out and he has his daughters right there with him."
Quick to reassure fans that starting a family will not "deter my perseverance," Owen plans to balance kids and his career — with plenty of support from his No. 1 fan: Lacey. "She loves me and believes in me more than any person I've ever met in my life," he explains.
"Thank God for her because she's going to be an absolutely amazing mother. She's the most caring human being I've ever met in my life."
— Anya Leon