Kate Beckinsale Going 'Back and Forth' on Having Another Child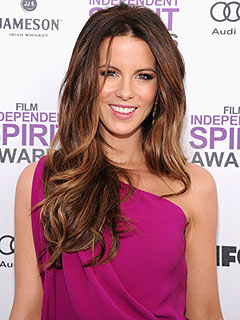 Jamie McCarthy/Getty
Will she, or won't she? That's the question Kate Beckinsale — and her ovaries — are wondering these days when it comes to having another child.
"At some point the decision will be made for me, when my ovaries dry up and die," the actress, who turns 39 later this month, tells Glamour UK. "We'll see. There's nothing that makes me go, 'And now I must have triplets.'"
Still, Beckinsale, who has a 13-year-old daughter, Lily, from her relationship with actor Michael Sheen, does think about having a baby with Len Wiseman, her husband since 2004.
"I got back and forth on it," she says. "I feel very lucky in that we navigated a pretty bumpy situation and that Lily's OK. So my resistance is along the lines of, 'Do I want to upset the apple cart?'"

She adds: "There's absolutely part of me that goes, 'I'd love to have a baby in the relationship I'm in, and have that experience when the relationship's really good and exclusive,' but I'm just not sure."
She's happy she had Lily when she did. "I was gigantic after I had Lily," she says. "I put on a good [50 lbs.], and it didn't go until I stopped breastfeeding … I was lucky that Britain wasn't so paparazzi-orientated then."
But while her biological clock may determine whether or not she becomes a mom again, Beckinsale is otherwise completely fine with getting older.
"Aging is going to happen and it should," she says. "My father died at 31 [when Kate was just 5], so to me, aging is extremely preferable to the alternative, which is not aging. Every year I get past 31, I think, 'Thank God.' It's a gift to be able to go, 'I look different, that means I'm not dead!'"
Besides, she feels young at heart.
"I'm so much happier in myself these days. I wouldn't like to be 23. I prefer what I look like now; I prefer what I feel like now," she says. "I'm not having a hip replacement or a face lift or hot flashes. The only thing that's different is I've got a child who isn't dying to hold my hand on the way into school."
— Tim Nudd