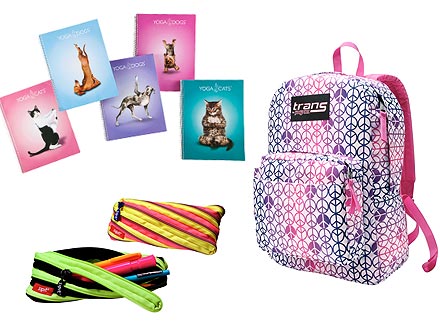 Courtesy Target
Whether it's for camp, a family summer vacation, rainy day activities, or a jumpstart on back-to-school, you're ready for some cool kids' loot. Good news: Target — which has an amazing selection of baby and kids items both in-store and online — has decided to give away more than a dozen of their fun kiddie goodies to one lucky Moms & Babies reader.
The prize includes: JanSport Maxter Peace Icon Backpack in White/Purple ($29.99), ful Backpack in Black/White Camo Print ($39.99), Thermos Fire Truck Lunch Box ($9.99), Arctic Zone Ladybug Lunch Box ($7.99), Aladdin Food Storage Containers ($3.99 to $12.99), Aladdin Chill Sandwich Pack ($4.99), Aladdin Chill Snack Pack ($3.99), Slap Ruler ($2.99), Sneaker Pouch Pencil Case ($4.99), Fashion Paperboard Magnetic Fashion Paperboard Mirror ($3.49), two Yoga Dog Notebooks ($2.50) and two Twister Pencil Cases ($4.99).
Check out the entire Target Back-to-School assortment at Target.com. Got college-bound kids at home? Visit uStyler, a new online program that allows students to pick and choose items for their dorm before they arrive at school (including a cool virtual design tool!), at college.target.com/ustyler.
Hurry up and enter for your chance to win! Online entries must be received between 12:01 a.m. Eastern Time ("ET") on 7/2/12 and 11:59 p.m. (ET) on 7/8/12. See Official Rules.