Mini Must-Have: Romeo Beckham's Striped Top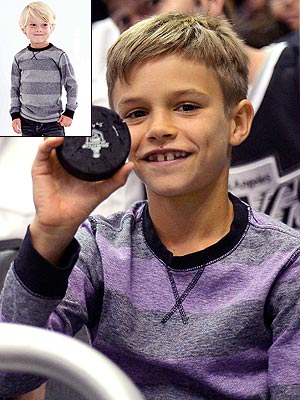 Mark J. Terrill/AP; Inset Courtesy Colorfast Apparel
It's a classic case of puck luck!
In between watching the Los Angeles Kings out on the ice and getting goofy with dad David Beckham in the stands, Romeo Beckham managed to snag the coveted game piece while attending a hockey match in L.A. on June 8.
But while we were busy soaking up the father-son smiles, we also noticed how cute the 9½-year-old looked in his (super rare!) dressed-down striped shirt.

After some sleuthing, we've discovered that the mini fashionisto kept it cozy on the sidelines in Colorfast Apparel's Thermal Top ($30).
And although we're big fans of Romeo's dapper dynamic, we have to admit that he managed to score a goal (for the win!) with his casual sporty style.
— Anya Leon