Elisabeth Röhm's Blog: The House That Built Me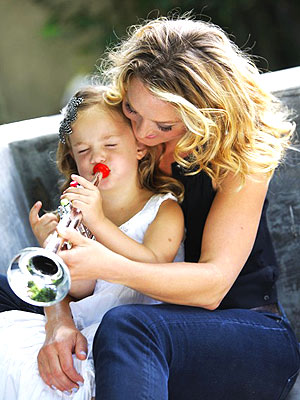 Sean Smith
Elisabeth Röhm, best known for her roles as Serena on Law & Order and Kate on Angel, has been blogging for PEOPLE.com for over a year now.
The actress, 39, currently stars as Taylor on The Client List, while her film Transit is out now, with Officer Down following later this year.
She can be found on Facebook, Google + and @ElisabethRohm.
In her latest blog, Röhm — mom to 4-year-old Easton August with fiancé Ron Anthony — reflects on their family's upcoming move and visits her childhood home.
Have you ever gone back to poke around a house you used to live in? Share your experience in the comments.

It's a sentimental time for our family right now. Not only is it almost the Fourth of July, which always makes me reflect on family, tradition and the freedom we are so blessed with in this country but it's also the end of a chapter for my small clan.
I don't know why I always feel like the Fourth of July marks closure and a new beginning but somehow it annually makes me pause and think of all that we have done this year to celebrate our lives and all that we could do better. It's certainly a time of year that makes you think of your life with gratitude and hope; looking forward towards possibility.
Change is happening in our family. Change can be good and yet it brings up so many feelings and memories of the past. So it goes, when you move homes. At the end of this month, we are moving and just like the culmination of our nation's big celebration, our family is excited about our next chapter and all our hopes for the coming year. We are celebrating!
Yet, with this new chapter comes the emotion of goodbye. We loved the little house that we made our family in. It's the place where all of our dreams for a stable, loving home took root. It's the home where Easton was delivered like a bundle of joy from the heavens and the hospital, where we spent those sleepless nights caring for her, where I wandered the halls like an intoxicated love-slave of my child's every need, the place where we tried our first Pampers and grew to understand the art of the diaper, the emotion of breastfeeding, bottle-transitioning and sleep training.
Within these walls I learned to love profoundly and accept the tenderness of a family unit. With Easton we all went from crawling to those first steps of freedom, which were so exciting to watch. We saw the change from goo-goo ga-ga to first words and now to an expressive articulate child who loves to talk, as well as the bold shift from crib to bed. Now I have a little girl instead of a baby.
Oh, how the time has flown. I don't know how we will leave this house behind, actually. The new owners might have to cope with me camping out on the front steps from time to time just to get a whiff of our past.
I'm sentimental as it is, but moving has always been tough on me. As much as I look to the future I find I am always attracted to the past much like Woody Allen's Midnight in Paris.
I recall how traumatic each move we made as a child was. Now, I'm not an army brat or anything, but we moved a few times in my childhood and I remember it with agony. It's such a huge adjustment. My poor mother had to always explain that it was for the betterment of our lives and yet I was attached to what I knew.
Still to this day I feel a deep connection to the home we lived in from the time I was five to 14. Even recently I drove by and did that, 'Hi, I grew up here … mind if I take a look around?' thing that so many of us do.
It stirred up so much of the longings of youth, my parents' divorce and the heartache that went along with it, the bloom of first love, the dogs and cats we had and the many lost afternoons in the woods, not to mention my little cabin was still there — with cobwebs and a chipping roof — yet intact. (I delighted knowing that other children had found their own personal freedom in the world of imagination in that little log cabin of mine.)
I wandered the backyard and inhaled those years of my childhood. Especially since my mother passed away suddenly two years ago, it brought a closure that I didn't anticipate through visiting the home we had shared together, the place I had grown up and experienced many of my greatest transitions.
Like Miranda Lambert's song, "The House That Built Me" suggests, we connect to each other and ourselves through the homes we have, the rooms we live in and the roof that's over our head. Within those walls is the magic dust of our essence. Somehow, even if we move on to the next chapter, which we always do, we never lose that connection to time or space.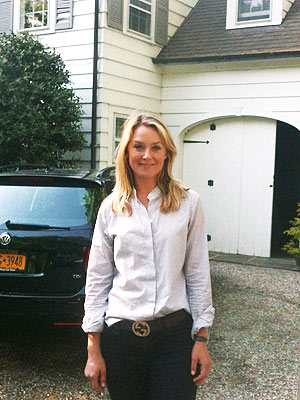 My old house! – Courtesy Elisabeth Röhm
Speaking of the Fourth of July, and reminiscing, I remember loving putting my patriotic pride on display when I was little, especially during those summers when Olympic Games occurred. I was at the store the other day and saw these cool Pampers Limited Edition USA diapers and thought that I would have loved to have outfitted baby Easton in them when she was younger. (For you moms out there with little ones in diapers — they're so cute and they really let the kiddos show off their team spirit!) I thought it was very cool to share with you this great way incorporating your tiny tots into your upcoming summer celebrations. Oh, I remember it well!
So, on to our new chapter …
I'm sure one day Easton will bring her little girl back to this house that I am writing this blog in and say to her, "I grew up there. Let's knock and see if they'll let us take a look around. I'd like to show you where I took my first step, spoke my first words and went from baby to girl." I know I'll be coming back sometime soon to visit, to remember and celebrate the experiences we shared in our first family home.
Tell me of your childhood home, PEOPLE.com! Share pictures if you've got them. I'd love to see your baby pics and get a glimpse of "the house that built you"!
From our family to yours, with love.
Until next time,
— Elisabeth Röhm
In exchange for a mention in this post, Pampers made a donation to March of Dimes and paid a stipend to Ms. Röhm.