It'll Be Another Boy for Scott and Kelley Wolf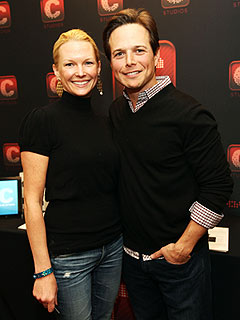 Barry Brecheisen/Getty
Scott Wolf is feeling blue — at least for now.
The former Party of Five actor and his wife Kelley are expecting their second child this fall and, after an impromptu ultrasound, it seems as if the couple will be welcoming their second son.
"We had taken an ultrasound that was too early to be conclusive. So a friend of [Kelley's] was like, 'You know, you can go to the mall…,'" Wolf, 44, shared during an appearance on The Talk on Thursday.
"I was like, 'The mall?' But we went so we have a semi-conclusive test that … we're having another boy!"

The official word, however, is still up in the air. "I'm not quite painting the room blue yet because it was at the mall. So we'll have another ultrasound at a proper doctor's office next week," Wolf jokes.
Originally planning on waiting to break the baby news to big brother Jackson Kayse, Wolf admits the "sharp" 3½-year-old took matters in his own hands.
"He came up to [Kelley] one day and was like, 'What do you have in your tummy?' So we sat him down and said, 'Mommy has a baby in there and do you know what that means?' And he said, 'Yeah,'" Wolf recalls.
"He was like, 'I can't wait to be a big brother.' He [said], 'Hello' to the baby in there, and so we thought, 'How great. He really understands this.'"
But it didn't take long for Wolf, who currently voices a character on Kaijudo: Rise of the Duel Masters, to realize the lines of communication had been crossed!
"A couple of days [later] he woke up and I went in to get him and he goes, 'Daddy, guess what?' And I said, 'What?'" And he said, 'I'm having a baby!'" the proud papa laughs.
— Anya Leon