Rebecca Romijn's Secret to Happiness? Dance Parties!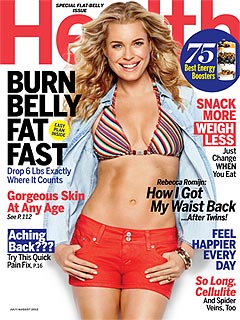 Courtesy Health
Just call them the dancing queens!
When Rebecca Romijn is feeling blue, she turns her frown upside down with an old family recipe: a strong dose of dance parties.
And, according to the mom-of-two, she's already teaching her 3½-year-old twin daughters Charlie Tamara Tulip and Dolly Rebecca Rose the secret to happiness.
"My mom used [to dance] as a tool to work herself out of a bad mood. I remember dancing around the house to We Are Family," Romijn, 39, tells Health's July/August issue.
"I'm introducing the girls to The Beatles and Stevie Wonder. We have a little disco ball in our living room, we love our little dance parties."

But since the birth of her daughters, it has taken a whole lot more than fancy foot work to maintain her fabulous figure.
"After I had my babies and was struggling to lose the weight, I had to challenge my body in a different way. Bikram yoga was key," she explains. "You sweat so much, you'll lose poundage. Though, honestly? I dread it every time. [After] I'm grateful for it."
And while she does occasionally indulge in her favorite foods, she admits she has had to cut back on drinking wine — even with her mom status at stake.
"I'd fall asleep for an hour and then be wide awake! Every once in a while, I'd toy with the idea of, 'I can be a cool mom — a party girl at night and a mom in the morning,'" Romijn admits.
"But I'd regret it every time. Because those girls wake up at 6 a.m. no matter what time you come home!"
— Anya Leon