Molly Sims: Son's Birth the 'Happiest Day of My Life'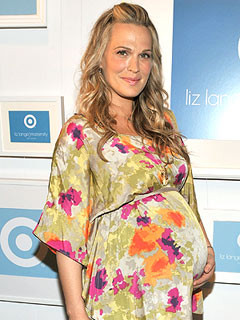 Henry S. Dziekan III/Getty
She's not sharing his name quite yet, but Molly Sims has plenty to say about her newborn baby boy.
"It is with such absolute pride and pure joy that we welcome baby Stuber into our lives," the model and actress, 39, wrote on her website Wednesday in a post titled "The Happiest Day of My Life".
"He weighs in at just over 7 lbs., and I could just eat him up he's so sweet!"
Sims delivered her first child with husband Scott Stuber on Tuesday.
"Scott and I could not be happier, and can't wait to watch our little guy grow and see the world through his eyes," she continues.

"The past nine months have already been an incredible journey, and we are so excited for everything to come!"
RELATED GALLERY: Molly Sims's Fresh & Funky Maternity Style