The Rancics Plan for a Traditional Baby Name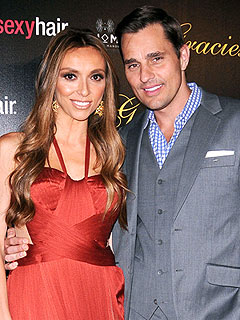 Scott Kirkland/PictureGroup
After leaving their recent baby shower — where the couple announced they're expecting a baby boy — Giuliana and Bill Rancic took a long stroll together, not only to "walk off too many cupcakes," but to discuss baby names!
"We walked almost an hour and a half," the E! News host told PEOPLE, at Nivea's National PDA Day event in New York on Wednesday.
They haven't settled on a name, but "we have a short list," Giuliana, 37, says. And the couple is leaning toward old-fashioned.
"We're going for traditional but not commonly used," explains Giuliana. "None of those Hollywood names. It won't be anything like Stereo System or Flag."

The two are planning on traditional baby clothes as well.
"There was a baby boy at the shower wearing a fedora," recalls Giuliana. "Yeah, not my son," Bill interjects with a laugh. Adds Giuliana, "the baby didn't seem to like it. If I have a girl one day then I'll have a lot of fun dressing her up. She'll have an edgy style."
Giuliana and Bill, 41, said their baby will be born in Colorado this August and will travel with them to Chicago and then on to L.A.
"My parents brought us everywhere, every vacation, every dinner," said Bill, "That's what we're going to do with the baby. As for the birth location, "Our surrogate is in Colorado and we don't want to take her away from home," notes Giuliana.
The two already have high hopes for their little one. "Bill wants an NFL player," says Giuliana. "Or a CEO," quips Bill. "Honestly, I just want a healthy baby," says the future dad, "I hope I'm half as good a father as mine was."
— Janine Rayford