Tea Time! Keep Tots Refreshed with Talbott Teas for Kids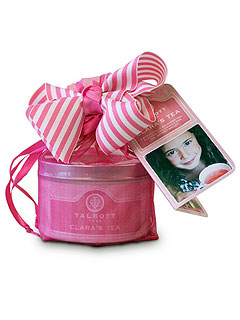 Courtesy Talbott Teas
Whether it's (pretend) tea with the queen or snack time, you want your thirsty tots to sip on drinks sans a ton of added sweeteners. "All natural" sits even better in your cup.
Lift a pinky to Talbott Teas's line of delicious fruity flavored, caffeine-free infusions made specifically for kids. With yummy combos like Berry Delight ($16) and Luscious Lemon Meringue ($12), each drink is 100-percent natural (no artificial flavors, preservatives, added sugar, or bouncing off the walls).
We've been sipping Clara's Tea ($20, left), a blend of strawberries, rose petals and vanilla, and Blissful Blueberry ($16), with scrumptious blueberries, apples, hibiscus and black currant leaf. Summer bonus: The teas can easily adapt from warm soothing beverages to refreshing iced drinks that keep kids hydrated in the hot months ahead.
Indeed, they're a princess's cup of tea, perfect for all her pint-size parties — plus the fun flavors (that sound just as fancy as Mom's brew) will make her and her friends feel extra special.
To shop the full variety of teas, visit TalbottTeas.com.
— Anya Leon