Suits Your Belly: A Chic (and Luxe!) Line of Maternity Work Clothes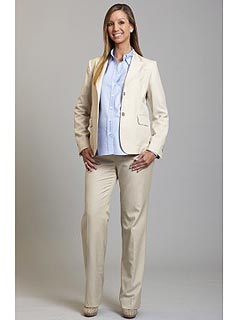 Courtesy Suits Your Belly
Trying to make it through the work day is hard enough when you're pregnant.
Add to that the added stress of having to find clothes that not only are suitable for the office, but are comfortable too, and that might just be reason enough to put in your two-weeks notice.
Lucky for you, Suits Your Belly has come up with a line of professional maternity clothes that, well, suits you (and, of course, your bump!).
Now moms-to-be won't have to worry about constantly swapping out their slacks for bigger sizes because the unique zipper belly panel allows the tailored pants to adjust to a growing figure from the first trimester to the last.

But, as if that weren't reason enough to snatch up a few suits, the splurge-worthy sets are crafted from wool cashmere that will feel super soft against the skin.
Plus, they also have coordinating luxe cotton shirts that feature a curved hemline to flatter your new shape.
To see the full line, go to Suitsyourbelly.com.
— Anya Leon