Summer Sanders' Tips For Getting Kids Moving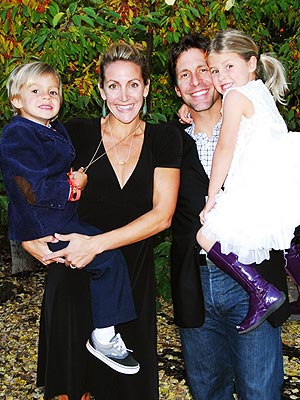 Courtesy Summer Sanders
Maintaining a healthy lifestyle comes naturally to Olympic swimmer Summer Sanders, who won two gold medals, a silver and a bronze during the 1992 Games. But it's a message she works hard to pass on to her children, 6-year-old daughter Skye and 4½-year-old son Charles.
"I describe it to my kids as, 'You can't get to the glory of a finish line without a great start,'" Sanders, 39, tells PEOPLE.
"My mom used to say to me, 'You need to eat something good in the morning. It needs to stick to your ribs.' I would actually visualize the food on my ribs and that's the way I could get through my day."
"No matter how early your day starts," she continues, "you need to start with a nutritious breakfast."

That level of commitment is why Sanders and seven other Olympians have joined Team Kellogg's to encourage others to get moving and eat right, which the swimmer says should be a family activity.
"Just last weekend, I went for a run and my son biked next to me," Sanders says. "He was going so fast and he kept criticizing me, shouting, 'Why aren't you keeping up with me? Run faster!' I not only had my little training partner, but my hardcore coach with me."
In addition, Sanders also finds time to work out when just playing with her kids, like during trips to the park.
"Me and my friend call it 'working out in the cracks,'" she says of squeezing in exercise whenever possible. "My kids live on the monkey bars — They are there for you so you can do some pull-ups, sit-ups when you hang from the bar and pull your knees into the chest. Don't think you look funny because every other mom or parent is looking at you going, 'I should be doing that.'"
And the family's emphasis on physical activity has managed to trickle down to Sanders' kids, with husband and Olympic skier Erik Schlopy, who are starting to embrace pastimes of their own.
"My son just was introduced to ice hockey and he's totally fallen in love with it. He dreams about it," she says. "My daughter, she's a gymnast. She loves gymnastics. My kids have chosen sports that I have absolutely no knowledge of."
But while her children won't be following in their famous parents' footsteps, Skye and Charles will be commemorating this summer's Olympics, when the entire family travels to London where Sanders is serving as a correspondent for NBC and Yahoo! Sports.
"I will have such a great opportunity to once again introduce them to team spirit and your country and your pride and wearing USA and cheering," she says.
"They went to Whistler and at that time, my son was so young, he was saying 'Go USA! Go USA!' and then he'd turn to me and say, 'Mommy, what's a USA?' I think now, two years later, he actually gets what the USA is. It'll mean more this time. And my daughter's already speaking in an English accent, so she's got that down."
— Kiran Hefa