Usher: I'm Always Giving My Kids Advice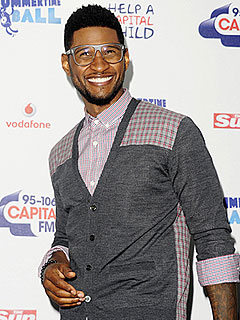 Peter/Startraks
It was father-son bonding at its best.
R&B star Usher tells PEOPLE that he spent Memorial Day having an impromptu water fight with his sons, Usher V, 4½, and Naviyd Ely, 3½.
"We used bottles of water and got totally soaked," he recalls. "Naviyd won. It was a hot day, and it just happened. I love fun times like that."
The lighthearted outing was a welcome diversion for Usher, 33, who was in court recently due to a custody fight with ex-wife, Tameka Foster.
But instead of dwelling on the negative, Usher says that he tries to balance the fun times with serious talks with his sons.

"Every time I open my mouth, I try to give as much advice as possible," he explains. "If my children are unclear on something, I take the time to explain it to them."
And sometimes, he says, he has to lay down the law ­ despite his boys' craftiness. "I took them to my mother's house; she lives about two minutes away from me," he recalls.
"Naviyd is addicted to peppermint, but he had already had dinner and dessert. So I told him he couldn't have any candy, and he walked off. A couple of minutes later, when he thought I couldn't hear, he was asking my mother if he could open a peppermint candy. He was trying to manipulate the situation." (Usher says he had "a good laugh" at Naviyd's efforts, but ultimately denied him the candy.)
Professionally, Usher is gearing up for the release of his new album, Looking 4 Myself, which hits stores Tuesday. He promises it's his most personal album yet.
"I do talk about my relationships," he says. "I talk about my shortcomings, my transitions and my tumultuous story. This album is about my evolution. I like talking about what I feel."
And when he's home, he likes playing with his sons. "The last game we played was 'it.' You know, like tag," he says. "The boys love to run around and play games with me; I'm a kid at heart."
— Steve Helling