Spotted: Tony Romo and Hawkins Start Up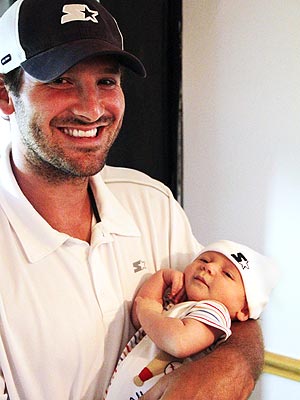 Courtesy Starter
Just like Dad!
Tony Romo poses with 9-week-old son Hawkins in their hats by Starter, the sports gear company for which the Dallas Cowboys quarterback is a spokesman.
He and wife Candice Crawford welcomed their bundle of joy on April 9.
"If it's possible to bring you and your wife closer together, something like this really does," Romo, 32, told PEOPLE recently.
"It strengthens your family values and your family and the love you have, which is already really strong. It's been a great blessing from God to put us in this situation. We feel very honored."
RELATED: Parenthood Has Strengthened Tony Romo & Candice Crawford's Marriage