Salma Hayek: My Daughter 'Always Makes Me Laugh'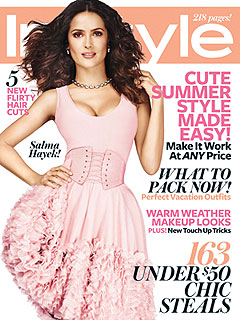 Courtesy InStyle
Whenever Salma Hayek needs a pick-me-up after a particularly busy week, she looks no further than her daughter Valentina Paloma, 4½.
On a recent morning, Hayek tells InStyle, she was feeling jet-lagged after having flown to Los Angeles from Paris the night before, when Valentina ran into her room.
"Valentina jumped on my bed and hugged me, and I go, 'What are you doing? You scared me!'" Hayek, 45, tells the magazine in its July issue.
She started giggling and said to me, 'You desperately needed my energy.' I was so surprised she said that. A 4-year-old!"
"And she was so right," the actress adds.

Hayek and her husband, French billionaire François-Henri Pinault, split much of their family's time between Paris and L.A. But while their routine can certainly be exhausting, Hayek says, Valentina doesn't mind the hectic lifestyle and traveling schedule.
"We're lucky because she loves traveling," Hayek explains. "For her it's second nature. If I put her in a school in Spain because I'm doing a movie there, she's excited about this new experience with other kids and the teachers. And when she leaves, she does so with no sorrow. She remembers them and talks about them and loves them, but she doesn't have the anxiety or sadness — none of that."
After spending her days juggling responsibilities as a wife, mother, actress and businesswoman, Hayek says she enjoys decompressing in the evenings by reading things like Dr. Seuss books to Valentina.
"My daughter comes up with her own songs and rhymes as well," notes Hayek. "She always makes me laugh."
— Liz Raftery