Mommy & Me: Courtney Mazza and Gia's Matching Jewelry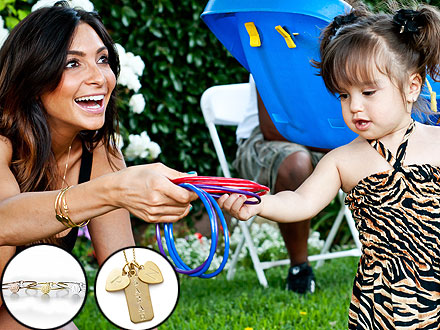 Courtesy Courtney Mazza
This past Mother's Day, Mario Lopez was Extra sweet to his lovely ladies.
The TV host not only gifted fiancée Courtney Mazza with a beautiful necklace and coordinating bracelet, but he also made sure to pick up a matching piece for the couple's daughter Gia Francesca.
A part of Sarah Chloe's personalized jewelry collection, Mazza's gold Ella Bangle ($98) and necklace have been inscribed with her daughter's name, while her 21-month-old has an equally chic monogrammed version for herself.

And it certainly sounds like Lopez's thoughtful presents were a big hit; After opening up her gifts, Mazza took to Twitter to share her excitement.
"Omg! What a perfect gift! Bangles are gorgeous and my Gia necklace is [to] die for! Thank you @MarioLopezExtra," she Tweeted.
— Anya Leon