Simone Masterson-Horn's Second Birthday Bash!
Happy birthday! Simone Masterson-Horn celebrated turning two on Saturday with a purple and pink-themed birthday bash hosted by dads Bill Horn and Scout Masterson at their L.A.-area home.
"We decided to do Simone's party at home this year," the couple tell PEOPLE. "Planning and executing Simone's dream party with our friend Jenny Keller was a lot of fun! We were still hanging tissue paper fans at 2 a.m. the night before."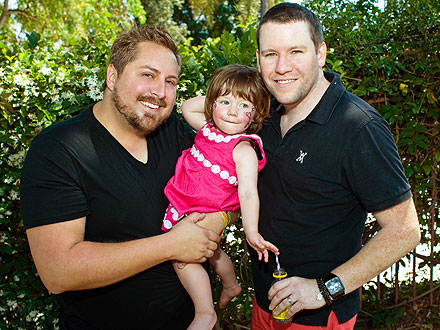 Scout, Simone and Bill – Frances Iacuzzi

"The Guncles" were joined by family and friends, including Tori Spelling's children Liam, Stella and Hattie, Selma Blair and son Arthur, and Kimberly Van Der Beek with kids Olivia and Joshua.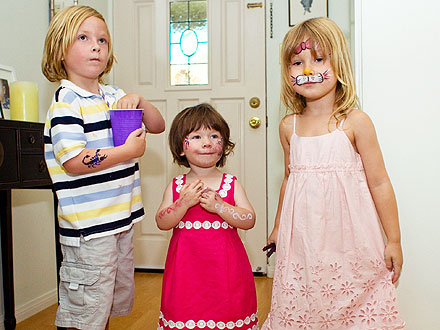 Liam, Simone and Stella – Frances Iacuzzi
As guests arrived, they were greeted by rows of three-foot pink balloons adorning the entrance. Activities at the party included a giant birthday cake-shaped bounce castle, face painting, glitter tattoos and an over-the-top, prop-filled photo booth by Vizid Booth. In lieu of gifts, guests brought a donation of diapers for the family's favorite charity, Baby Buggy.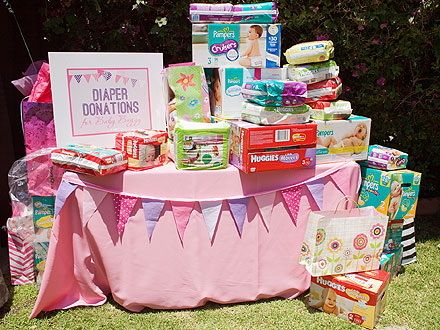 Diaper donations for Baby Buggy – Frances Iacuzzi
Jenny Keller of Jenny Cookies flew in from Seattle and designed, baked and styled an extravagant dessert table including an ombré multi-tier buttercream cake, sugar cookies, cupcake-flavored popcorn, and her famous cake pops. (She also was the "confectionista" at Simone's first birthday party, as seen on Tori & Dean: Home Sweet Hollywood.)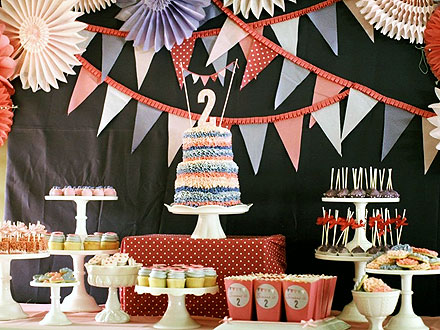 The dessert table! – Jenny Keller
Guests feasted on made-to-order tacos, quesadillas, taquitos and a salsa buffet featuring fresh fried tortilla chips. To accompany Jenny Keller's desserts, the couple created a tricked-out sundae bar with nearly 20 different toppings.
"We've always loved entertaining. Now that we're parents, we enjoy throwing amazing birthday parties for Simone," Horn and Masterson tell PEOPLE. "We wanted to throw a party that was both stylish and tons of fun for the birthday girl and her friends."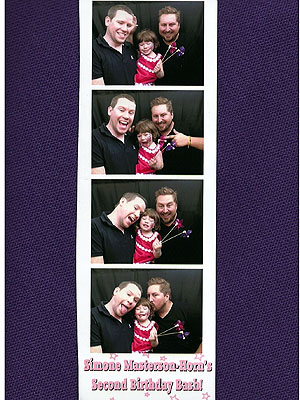 Masterson-Horn family in the photobooth! – Frances Iacuzzi
Simone matched the theme of her party by wearing a pink Lilly Pulitzer dress with purple Sun-San sandals.
"She had the most amazing day," say her dads. "We had to pry her out of the bouncy castle kicking and screaming well after all the party guests had gone home!"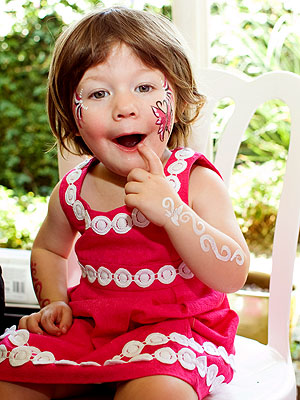 The birthday girl! – Frances Iacuzzi
— Sarah Michaud