J.R. Martinez Introduces Lauryn Anabelle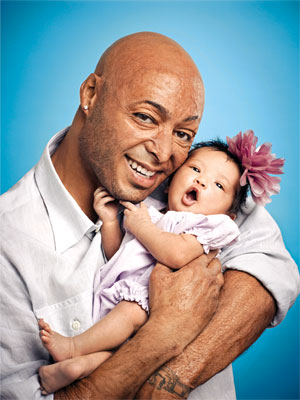 Justin Stephens
Former Dancing with the Stars champ J.R. Martinez is showing off something much more beautiful than the mirror ball trophy he took home last November — his newborn daughter Lauryn Anabelle.
"I just love to hold her," Martinez, 28, tells PEOPLE of the little girl he and his girlfriend, Diana Gonzalez-Jones, welcomed on May 2. "I kiss her non-stop all day long."
In PEOPLE's June 18 issue, the Iraq war veteran says that despite being raised by a single mom, he's adjusting to his new role as a father nicely.
"The minute she was born I was like, 'This is where I'm meant to be.' I felt excitement and love and it was all about her," he says.

"I'll be holding her and think, 'This is my daughter' — it's language I'm still getting used to."
As for first-time parenting horror stories of messy feedings, dirty diapers and long, sleepless nights — Martinez says he doesn't have any.
"It's been easy so far," Martinez says of his little bundle, whom he and Gonzalez-Jones have nicknamed Belle. "She's eating, sleeping six, seven hours a night. It's crazy!"
For more on Martinez's foray into fatherhood, pick up the latest issue of PEOPLE on Friday.
— Monica Rizzo