BumpWatch: Reese Witherspoon's Sweet Treat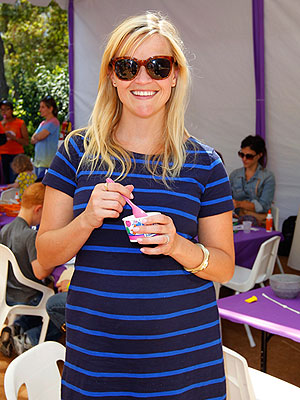 Donato Sardella/WireImage
Mom-to-be Reese Witherspoon presided over a big day of extended family fun – complete with cheeseburgers, ice cream and even hair makeovers – over the weekend.
The expectant actress was hanging out with children Ava, 12, and Deacon, 8½, at the Kidstock Music and Arts Festival held at Beverly Hills's Greystone Mansion, which benefits the One Voice and the One Voice Scholars Program.
Joined by hubby Jim Toth, her brother (and his two girls), Witherspoon rubbed her pregnant belly and smiled widely as her kids enjoyed some musical entertainment by Jim Belushi's daughter, Jamison.

Later, the whole family moved over to the Drybar station, where the younger girls got their hair done. (Ava got pink streaks and glitter put in!)
Then it was time for some food: specifically cheeseburger sliders, chicken skewers and some French fries for Reese.
Her husband was very attentive (and affectionate), making sure she was well-fed, according to onlookers. And the two enjoyed an especially sweet – literally – moment, sharing a bite of Baskin-Robbins ice cream together.
— Patrick Gomez