Hilary Duff: 'I Love Changing Diapers!'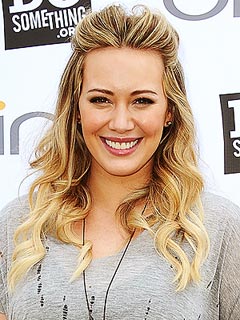 Jason LaVeris/FilmMagic
New mom Hilary Duff says one of her favorite parenting duties is something not everyone would expect.
"I love changing diapers!" the singer and actress, 24, told PEOPLE at Friday's Bing and DoSomething.org's Summer of Doing kick-off event downtown at the Heart of Los Angeles. "I'm really good at it. I've got it down."
Overall, a glowing Duff — mom to 10-week-old son Luca Cruz — apparently couldn't be happier.
"There are so many fantastic things [about motherhood]," she says. "Everything's been really wonderful, and the time's just been flying by. I want it to slow down."

On being a parent along with husband Mike Comrie, she says, "It's a challenging job, and the reward is so great and I feel so empowered. Knowing what your kid wants when he cries is the best feeling in the world."
Duff's little one is already even a good traveler. Calling a recent trip with Luca, "amazing," the starlet says he "didn't make a peep on the airplane."
Headed to a friend's 30th birthday, Duff explains, "We were a little [hesitant] about taking our baby to Vegas, but we did. I think I would have had a really hard time leaving him at home. He was great."
As for milestones, the "Coming Clean" singer calls them a daily occurrence.
"He's starting to roll over, so that's really good and exciting," she says. "And he's been smiling and being a lot more vocal."
While parenting keeps her schedule full, Duff is also going to get back to work with "pop-dance music that makes you feel good and sends a positive message." She calls this her "main focus right now besides Luca."
Hoping to have something new out by the end of the year, Duff explains, "Next week I'm taking meetings with different producers and writers and getting that process started again. I'm ready. I'm taking my time because I want it to be right."
For great summer volunteer projects, check out bing.com/doing.

— Dahvi Shira