Stroll in Style with Gilt Groupe's Stroller Sale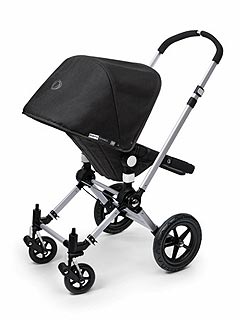 Courtesy Gilt
Looking for the perfect pram? Gilt Kids Stroll in Style event launches tomorrow, June 4, at 12pm EST. The special sale features a variety of covetable stroller brands at a range of price points, including the Bugaboo Cameleon Denim (originally $1059, now $899; shown at left), Bugaboo Cameleon Base in red (originally $880, now $750), Maclaren Volo in scarlet (originally $130, now $95), Maclaren Twin Techno in black (originally $385, now $240), and Orbit Baby mocha car seat (originally $360, now $235).

Plus, Moms & Babies readers will receive 10-percent off a Stroll in Style order by using our exclusive link.
Not sure which style suits you best? To prep for the sale, Gilt Baby & Kids senior buyer Melissa Keswin shares some expert tips below on how to select the right stroller.
5 Things to Think About When Buying a Stroller
1. Hometown Advantage: If you live in a city and are in and out of stores and cabs, or up and down stairs all day, then a lightweight stroller is better for you. If you live in the suburbs, look for a stroller that you can open and close easily, that has more storage, and that fits in your trunk.
2. Money Matters: Normally you'll get a bigger bang for your buck, but this isn't always preferred — more money can mean heavier and bulkier, but smoother. Less money can mean easier to use and lighter, but not always practical for the first few months of the baby's life.
3. Stroller Strategy: Is this your first stroller? If so, buy one that will work for newborns and older. There are strollers that have car seat attachments as well, and you can use a different seat for when they get older.
4. Get a Grip: Choose the right handle bars; not having a comfortable steering system can result in back aches. Are the handle bars the right height and shape? Are they adjustable? Are they padded? Test out a few and find the perfect fit for everyone who will be using the stroller regularly.
5. Cruise With a Purpose: Decide what you'll be using the stroller for most, and if you'll need to buy more then one. If you want to use a jogging stroller for your workout, get one especially for that, and also purchase one for everyday use. Jogging strollers are generally heavier and usually for little ones 6 months old and up.