Josie Maran's Blog: Enjoying Our Country Summer
Thanks for welcoming Josie Maran! The face of Maybelline for years, the model, 34, has also dabbled in acting, appearing in Van Helsing, and reality TV, where she took a spin on Dancing with the Stars.
The face of Maybelline for years, the model, 33, has also dabbled in acting, appearing in Van Helsing, and reality TV, where she took a spin on Dancing with the Stars.
In 2007, Maran established Josie Maran Cosmetics, her own natural product line. Since the launch, the Argan oil-based skincare and cosmetics have been the recipient of various industry awards.
Expecting her second child in July, Maran currently lives in California with her husband, Ali Alborzi, and their 5½-year-old daughter, Rumi Joon.
You can find her on Facebook and on Twitter @josie_maran.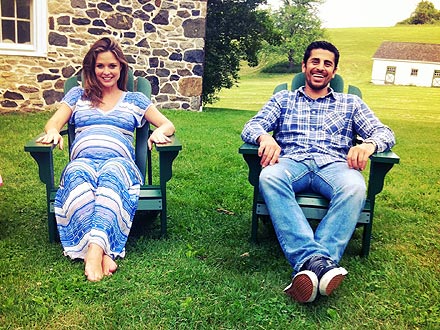 Kicking back with the hubs – Courtesy Josie Maran

Greetings from beautiful rural Pennsylvania! My daughter, Rumi Joon, my husband, Ali, my mom and I are spending the summer here in a beautiful old stone farmhouse, surrounded by acres of sprawling fields, waiting for the newest member of our family to arrive.
For the past few years I've been practically living on airplanes, flying back and forth from Los Angeles to Philadelphia to get to the QVC studios. Now that our baby's due in four weeks, I'm too close to my due date to fly. But the show must go on, so we rented a house a few miles from QVC.
Now my commute takes a lot less fossil fuel and a lot less of my energy, too. It's a 10-minute drive (in my Prius, of course) through rolling hills, instead of a 10-hour, cross-country ordeal.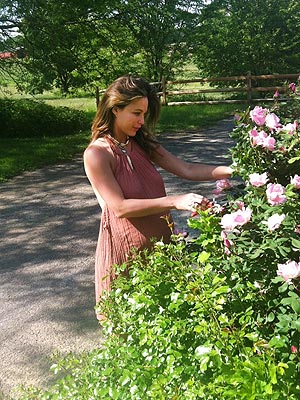 Getting my prune on – Courtesy Josie Maran
Since we got here, my nesting instinct has really been kicking in. This house is bigger and more rustic than what we're used to, and my mom and I are having a great time fluffing, cleaning and decorating.
We're making a kids' room for Rumi and her new brother or sister, collecting treasures from local antique shops and yard sales, and pine cones, beautiful leaves and driftwood from the great outdoors. We don't need a crib, since our new baby will be snuggled in with Ali and me for the first year or so, the same way we slept with Rumi when she was tiny. We're making our whole house into a cozy, fun, inspiring play space for our family.
Outside our windows, we have horses to our left and farms to our right. Being here is reminding me that eating local isn't some trendy big-city idea. It's the way people in the country have always eaten, and still do. We're watching the corn grow, waiting for it to be tall enough to eat.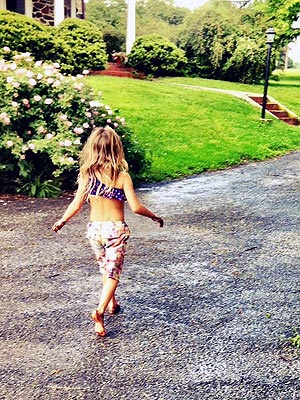 Country walk with Rumi Joon – Courtesy Josie Maran
I'm watching my daughter grow, too, savoring these last weeks when she's still my only child. Like the corn, Rumi Joon is getting taller by the day. And like the corn, she's thriving in the bounty of Mother Nature, loving the sun and the rain. Sweet!
Even sweeter is watching Rumi falling in love with the natural beauty around us. She and I woke up on our first morning here and decided to scout out our 200 acres, barefoot and in our PJ's.
It happened to be Mother's Day, and our adventure turned out to be the best Mother's Day gift I could have imagined — walking through tall grass fields, my daughter squealing with joy, running from an abandoned horse shed to a nest full of baby birds to a flower covered with lady bugs to a dream-like rope swing we discovered hanging from a gigantic tree.
I was following Rumi, pinching myself, thinking I was going to wake up any minute. It seemed too good to be true. But no — it was a real, perfect moment, one I'll never forget.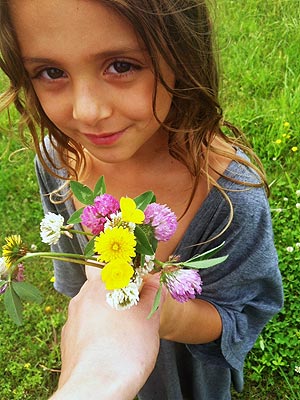 My flower girl – Courtesy Josie Maran
With love from a state of natural wonder,
— Josie Maran