Snapping Turtles Swimsuits Make Diaper Changes Easy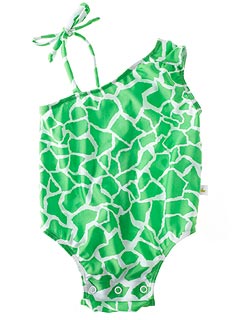 Courtesy Snapping Turtles
It's one of those things you wish you invented yourself: a swimsuit with a snap that makes diaper changing a breeze.
Long summer days are much more enjoyable thanks to Snapping Turtle Kids, easy-to-open suits that come in a wide variety of fun and frilly designs for girls ages 3 months to 3 years.
Designed by a New York City-based mom who almost pulled her hair out one day while changing her daughter's diaper by the sea, the suits feature sewn-in stainless steel snaps on the bottom, which makes tackling dirty bums on the go smooth sailing.

With eight collections, there's a style for every beach girl — each collection comes with perfectly coordinated 100-percent cotton terry cloth cover-ups and hats, too. Let your little one channel Jackie O with the Nantucket collection ($62), or, if she's feeling more Florida, try the vibrantly colored Palm Beach collection ($60).
There's even a coordinating tote to carry all of your sand essentials ($45). It's the perfect place to stash your stuff when you're headed to the public bathroom!
To check out the whole collection, visit snappingturtlekids.com.
— Amy Jamieson