Meet Jennifer Lopez's What to Expect When You're Expecting Twins
It's not every day that actors make their on-screen debut alongside Jennifer Lopez. But that's exactly what happened to 2-year-old twins Samuel and Asher, who play the son Lopez and Rodrigo Santoro adopt in What to Expect When You're Expecting, currently in theaters.
"Sammy was the first one to cuddle up to Jennifer," says the boys' father Kindred Howard, who, along with his wife Meredith, adopted Samuel and Asher from Ethiopia with the help of the charitable Gift of Adoption Fund.
"I thought, 'He just weaseled his way into the top spot.' There were times when I would look at Jennifer between takes and she would be playing peek-a-boo with Samuel."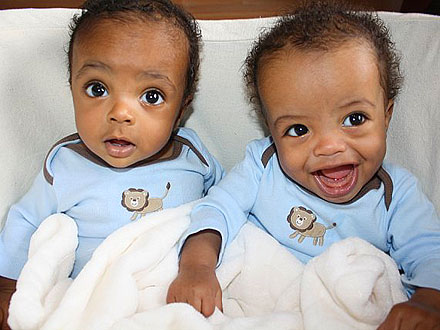 The boys at 8 months – Meredith Howard

Asher, on the other hand, bonded better with Santoro.
"So Sammy is the one you see in just about all of the scenes with Jennifer and Asher is in the dude scene with Rodrigo," explains Howard. "Between shooting, Rodrigo was taking pictures on his phone of he and Asher. It was the sweetest thing."
It's been a tough road to Hollywood for the boys, who were severely malnourished and suffered from meningitis and sepsis after their biological mother died at childbirth.
"Being in a very rural village, it's not like they could run to the store and get formula," says Howard. "Their father, out of love, gave them to an orphanage."
"He let me take some pictures of their biological mother to show the boys later on," adds Meredith.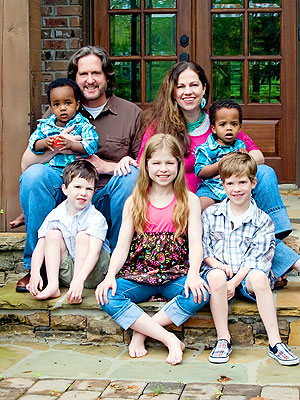 The Howard family today – Courtesy Howard Family
Originally hoping to adopt a little girl, the Howards decided to adopt the boys after two families had declined them. "They were possibly special needs, but they needed a home," says Meredith.
After bringing the twins to Atlanta to join the couple's three other children, daughter Emerson, 9, and sons William, 6, and Carson, 4, the Howards nursed the boys back to health, including taking them to physical therapy.
"They couldn't support any weight on their legs at all," recalls Meredith.
"Now, everything is normal. They are running around and getting into everything. They are just little miracle babies."
— Jessica Herndon