Keep Your Babe Covered in Gunapod's Wearable Blanket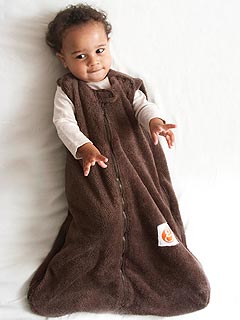 Courtesy Gunapod
Nothing is sweeter than dressing your drowsy babe in their cozy sleep sack before you bid them goodnight.
Not so sweet is having to fumble (often in the dark!) with the sack's zippers and velcro for that midnight diaper change.
The solution: Gunapod's Wearable Blanket ($29.50), a plush, no-fuss zip-up that keeps both you and baby covered all day long.
Adorned with an all-around (underarm to underarm) and front zipper, plus easy-to-access shoulder snaps, parents will have no problems changing their snoozing baby without disturbing them.
And whether you unzip the bottom to let their tiny feet wiggle free or keep them all bundled up, the coverall can be adapted to fit your little one's temperature (and temperament!) needs.

To check out the whole collection, visit Gunamuna.com.
— Anya Leon