Spotted: Gwyneth and Kids Check out Jay-Z Show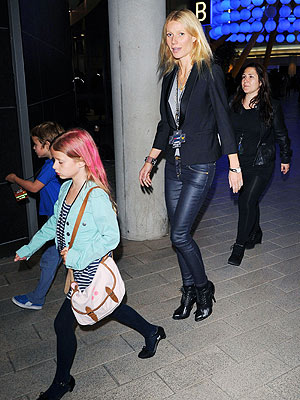 Xposure
Purse in hand? Check. Pink hair? Check. Pass around the neck? Check.
Apple Martin, 8, and little brother Moses, 6, join mom Gwyneth Paltrow for Jay-Z and Kanye West's "Watch the Throne" tour Saturday night in London.
"Yup. Uncle Jay at the O2," the actress, 39, Tweeted, sharing a photo of her children throwing up the rapper's diamond hand sign at the concert.
Paltrow and her husband, Coldplay frontman Chris Martin, are famously close with Jay-Z and wife Beyoncé.
"Yes, it's true; My kids call Jay-Z 'Uncle Jay.' I call him Uncle Jay too now," she joked in 2009.