Sophie and the City: Kids' Book Ups the Glam Factor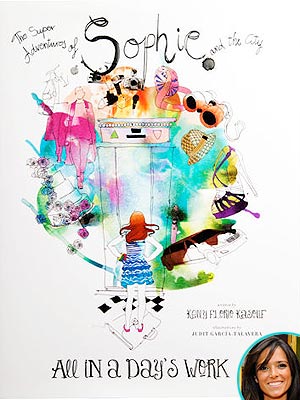 Inset: Billy Farrell Agency
Following her father's passing, Kelly Florio Kasouf attempted to write down their best memories together, including her frequent trips to New York City's Conde Nast building as a child, where her dad, Steve Florio, served as publisher.
"I was missing my dad — and all these wonderful times I had with him, and I was so afraid I was forgetting his memory," she tells PEOPLE. "I sat at the computer and I wrote all of my memories down, and it turned out to be a children's book."

The final result, The Super Adventures of Sophie and the City, tells the story of an inquisitive little girl, much like the author herself, who makes her way through the storied publishing house's many floors and learns about fashion, design, architecture, illustration and a host of other subjects, with a little help from such famous friends as Diane von Furstenberg and Isaac Mizrahi.
"I wanted to create a story and a character for little girls to look up to," Kasouf says, adding that though the book has elements of glitz and glamour, "its core is family values."
"It wasn't about her wanting to wear brands and love brands, it was about learning something on each adventure," she continues, "whether she's becoming Cleopatra on the traveler floor or learning about women's empowerment with Katharine Hepburn at the Met Gala."
And when it came time to name her central character, the author didn't have to look far for inspiration.
"My [16-month-old] daughter is Sophie; she was named after my grandmother who was my dad's mom," says Kasouf, who is also mom to 3-year-old son Henry. "I was literally writing [this book] for my kids so they knew how amazing their grandfather was."
— Kiran Hefa