Family Photo: The Richie-Maddens' Day at the Zoo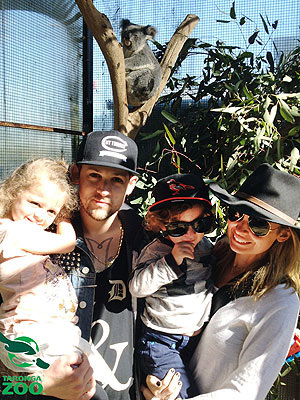 Courtesy Taronga Zoo
Nicole Richie is going wild Down Under.
The Fashion Star mentor, who is in Sydney with husband Joel Madden, a judge on The Voice Australia, spent a family day at the Taronga Zoo with children Harlow, 4, and Sparrow, 2½.
They met a friendly giraffe and took turns feeding the animal carrots by hand. Both young and old seemed thrilled by the encounter: The children were googly-eyed, while Richie looked awed as she took photos of the giraffe on her phone.
Later, the group had a special meeting with another zoo resident, Yindi the koala.

"Thanks [Taronga] Zoo for having us today with the kids," Madden Tweeted. "They are still buzzing from it. Can't get enough. We'll be back fo sho."
— Helin Jung