Christine Taylor's Latest Role: Healthy Mom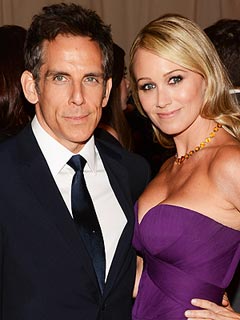 Joe Schildhorn/BFAnyc/Sipa
Christine Taylor and her husband Ben Stiller have teamed up again for a new project: creating a healthier family. However, their daughter Ella, 10, and son Quinlin, 6, have proven to be a tough audience to win over.
"Ben and I make these green drinks in the morning and they look at us like it's from another planet," the actress, 40, tells PEOPLE Wednesday at the N.Y.C. launch party for the organic body care line Nourish, for which she is the spokesperson.
"I joke, 'Just join the party! Don't complain so much, just join us.'"
Taylor and Stiller have recently embraced a plant-based diet that still includes "the things that aren't so good for you in moderation instead of the other way around."

"It really has changed our energy level," she notes. "Sometimes you don't realize it until someone says it to you, like, 'Your skin looks amazing.'"
Her only hiccup is that she wishes had gotten her family in on the veggie kick sooner.
"We have friends that are vegan and their kids came out vegan," she explains. "I'm so jealous that they had the information and they started the kids early because now to go back, it's a little harder."
Instead, Taylor's dealing with picky palates. "My daughter loves veggies but doesn't love fruit. My son loves fruit and doesn't love veggies."
The same is true for the natural products she's introduced the family to, like organic body wash from Nourish's under-$10 line, which comes in five different scents that she's had to strategically place around the house.
"My daughter vetoed the lavender mint but Ben likes the lavender mint. She loves the almond vanilla. I love the fig. My son is unscented because … he's like, "That's gross," she laughs about the family-friendly product sold online and at Whole Food Markets nationwide.
Right now, Taylor accepts that making a healthy shift at home is an ongoing process and is confident Ella and Quinlin will one day get in on Mom and Dad's green drinking ways.
"It's that thing where your parents aren't cool for a while and then suddenly they are. We just kind of plant the seeds."
— Christie LaRusso