Simon Helberg Welcomes Daughter Adeline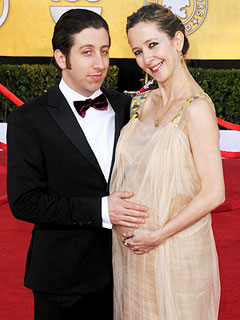 Albert L. Ortega/Getty
The Big Bang baby is here!
Simon Helberg and wife Jocelyn Towne welcomed their first child, daughter Adeline, on Tuesday, May 8, his rep confirms to PEOPLE.
The actor, who plays Howard Wolowitz on The Big Bang Theory, and his wife were hoping to have a natural birth with a midwife — if Helberg, 31, could find the correct delivery room.
"I walked into the wrong examination room," he told Conan O'Brien about a prenatal visit gone wrong.
"I'm bad enough at facial recognition … I saw more that day than I cared to. I didn't recognize her from that angle, whoever it was and I didn't ask."

— Sarah Michaud with reporting by Ulrica Wihlborg