Celebs Weigh In on TIME's Breastfeeding Cover
The nation's breastfeeding debate is hotter than ever.
After TIME's latest cover — depicting mom-of-two Jamie Lynne Grumet breastfeeding her 3-year-old son as he stands on a chair — went viral yesterday, social media sites immediately started buzzing with a range of reactions.
And with so much chatter surrounding the image and ideas behind the cover story, it didn't take long for celebs to offer their own opinions on the matter.
"@Time no! You missed the mark! You're supposed to be making it easier for breastfeeding moms. Your cover is [exploitative] & extreme," first-time mom Alyssa Milano, who has been open about nursing 8-month-old son Milo, Tweeted.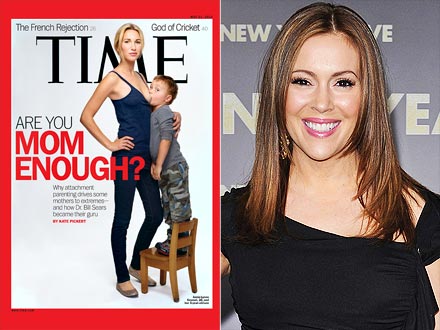 Axelle/Bauer-Griffin
She later Tweeted a link to another article she described as a "beautifully written" piece about breastfeeding.
Actress Mayim Bialik, who is pro-attachment parenting, also Tweeted that she was "being bombarded" to give her thoughts on the topic.
"This is not easy, to try and speak for all of us, but I will do my best to make you proud," she wrote on Facebook.
Bialik also praised TIME's cover mom, Grumet. "I was shocked how amazing her story was. And breastfeeding an adopted baby is incredible. And she gave an educated and eloquent set of responses. I would not have done a photo shoot myself, but I respect her and think she is a smart woman."
Bialik, who wrote about her experiences and parenting philosophies in Beyond the Sling: A Real-Life Guide to Raising Confident, Loving Children the Attachment Parenting Way, is still nursing her 3½-year-old son Fred.
— Anya Leon