Poll: What Do You Think of TIME's Breastfeeding Cover?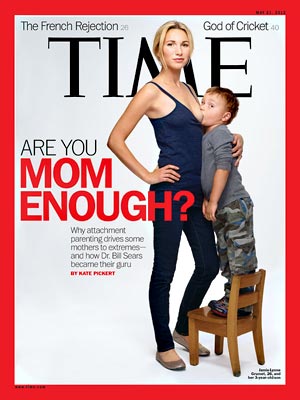 Martin Schoeller for TIME
TIME's newest cover image — of a woman breastfeeding her 3-year-old son — is causing quite a stir.
The magazine's cover story addresses the issue of attachment parenting, saying that the popular method, promoted by Dr. Bill Sears, "drives some mothers to the extremes."
But before most people have had a chance to read the actual story, they are reacting — strongly — online, on Facebook and on Twitter to the bold image of a young blonde mom nursing her son, who is standing on a chair.
"When you think of breastfeeding, you think of mothers holding their children, which was impossible with some of these older kids," explains photographer Martin Schoeller.

"I liked the idea of having the kids standing up to underline the point that this was an uncommon situation."
TELL US: What do you think of the TIME cover?