Leigh-Allyn Baker Reveals Her Morning Sickness Cure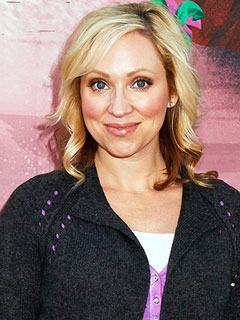 Tibrina Hobson/Getty
It's not easy being green.
Actress Leigh-Allyn Baker, who stars as harried mom Amy Duncan on Disney's hit family sitcom Good Luck Charlie, battled morning sickness throughout filming during her first trimester. Fortunately, she found some much-needed relief.
"All the prop people could see that I was turning green and they would rush in with peppermint tea," says Baker, 40, who is expecting her second child with husband Keith Kauffman. (Big brother-to-be Griffin is 3.)
"I have to say, peppermint tea was a miracle for me. Make it hot and ice it with honey and it really has a medicinal effect."

During her first pregnancy, "it was non-stop nausea for six months," says the actress. "Most people talk about, 'I was nauseous for 14 weeks, then it went away.' With this baby, I realized, 'Oh, this is why people can so easily decide to have a second baby!' Six months was brutal."
Now at the half-way point in her pregnancy, Baker — whose character on GLC, which just kicked off its third season, is also pregnant — has made it through her queasy phase and no longer needs the tea. But she has a new must-have indulgence on set.
"I would say that my one downfall is watermelon Jolly Ranchers," she confesses. "If I go to the set on time and do my lines, I find little hidden treats of Jolly Rancher watermelon candies. Almost like treats for when a dog does well!"
For more on Baker's pregnancy, pick up this week's issue of PEOPLE, on newsstands Friday.

— Michelle Tauber