April Hernandez-Castillo: I'm Having a Girl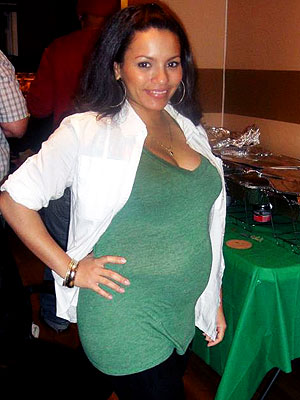 Tina Palazzo
April Hernandez-Castillo got her wish!
Expecting her first child with husband Jose Castillo, the actress had her hopes set on a baby girl — and will, indeed, welcome a daughter in September.
"I wanted a girl and he wanted a boy, of course I would have been happy either way," she tells PEOPLE.
The couple — who were "excited" about finding out the sex — were taken by surprise when the doctor let it slip that they were having a girl during a recent ultrasound.
"The doctor did not warn us or ask us if we wanted to know the sex," Hernandez-Castillo, 32, says. "She just quietly said, 'Oh, looks like you're having a girl.'"

The good news not only came as a shock to the mom-to-be, but left her — and her family! — in tears as well.
"At first I thought I heard wrong, [but] then she showed us closely it was a girl and I just started to tear up," she recalls. "My husband and mother were in the room as well and it was a room full of joyful tears."
And now the recent Person of Interest guest-star is thinking pink — and a whole lot of it.
"We actually had names picked out way before we even became pregnant," she shares. "We are still deciding on a theme for the nursery, but I do know there will be lots of pink!"
"Feeling great" and trying to balance exercise with a healthy diet, Hernandez-Castillo's only struggles have been adjusting to her new nighttime patterns (and positions!).
"Other than back pains and trying to find comfortable ways of sleeping, the second trimester is flowing smoothly," she says.
— Anya Leon