Pregnant Adriana Lima Is Craving Beer – But Not Drinking It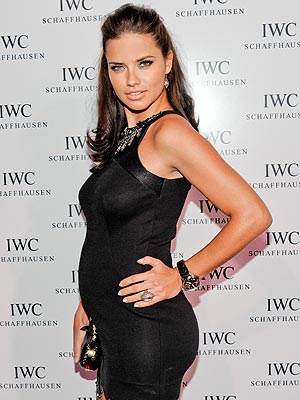 Neil Rasmus/BFAnyc/Sipa
Six months into her second pregnancy, Victoria's Secret model Adriana Lima is has an insatiable hankering for alcohol.
"I've been craving beer," Lima, 30, told PEOPLE Wednesday at the IWC Schaffhausen watch boutique opening in New York.
"It's very strange because I normally don't like beer. Now I want some but I cannot drink it. It's been very hard!"
Foregoing a cold pint of beer, the Brazilian beauty has still been able to indulge a bit.
"I've been craving crispy duck," she said. "All of a sudden I cannot get enough of it. It's amazing."

Despite her unusual appetite, "I'm feeling wonderful," says Lima, who is already a mom to 2-year-old daughter Valentina.
"It's definitely easier than the first time, maybe because I know exactly what I'm going to go through. I'm very relaxed and have a lot of energy."
Lima credits her husband, former basketball player Marko Jaric, for motivating her to exercise during the pregnancy and not to completely give into her cravings.
"I've gained a few pounds, but not as much as the first pregnancy — thanks to my husband," Lima, whose workout regimen also includes boxing, says.
"For the first three months I exercised with light weights and did workouts that were inspired by animal movements, like crab-walking on the floor. It really helped me tone my muscles."
As she enters her third trimester, Lima is all prepared for the arrival of her new addition – though she wants to keep the baby's sex a surprise.
"We still don't know, and it keeps it exciting," she said. "It doesn't matter if it's a boy or a girl as long as it's healthy and everything goes well."
— Paul Chi