Hugh Grant: Yes, Fatherhood Is Life-Changing After All
Just last month, Hugh Grant didn't seem entirely sure about whether fatherhood had changed him. Now, he's willing to concede it has indeed.
"Everyone was right all these years, saying, 'Hugh, why don't you have some children? It changes your life,' " the actor, 51, and dad to 6-month-old daughter Tabitha, says in an interview Friday on The Ellen DeGeneres Show.
"Now that I have [a child], it is life changing," he says. "I recommend it. Get some!"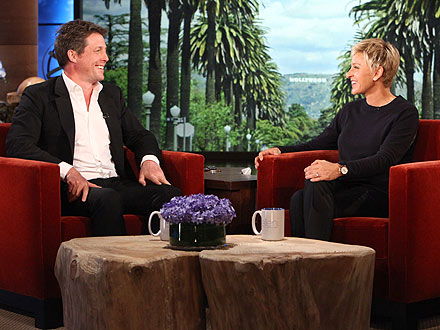 Warner Brothers

Tabitha's mother is Grant's ex Tinglan Hong, who is Chinese. In Friday's interview, Grant reveals that one of Tabitha's other names is Jīng Xǐ, which, he explains, has something to do with how she was conceived.
"I can't pretend it wasn't a little bit of a surprise," Grant, who stars in the new film Pirates! Band of Misfits, says. "But it's a very nice surprise. In fact, the baby's name in Chinese, because the mother is Chinese, means 'Happy Surprise.'"
— Tim Nudd