Sharon Osbourne: Grandparenthood Is 'Overwhelming – In a Good Way'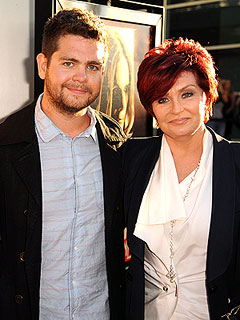 Jeff Kravitz/FilmMagic
The feeling of becoming a grandmother is a complicated one to express. Just ask Sharon Osbourne, whose son Jack welcomed his first child, daughter Pearl, with fiancée Lisa Stelly on Tuesday.
"It's all overwhelming," Sharon told PEOPLE on Wednesday.
"But in a good way — in a really positive, lovely way. It's just amazing."
With Pearl less than 48 hours old, Sharon's already ready for more little ones she can spoil.
"I've got two more girls to marry off," she says. "There will be more grandkids!"

Although Sharon's been the most vocal of her family members when it comes to speaking publicly about the new addition to the family, she says the strongest words came from her husband Ozzy.
"[He told Jack,] this is a love that is so special," Sharon explains. "He said, 'You will never experience a love like this, other than a father and a daughter. It's a very, very special love.'"
Sharon's been surrounded by baby talk all week — in her personal life and in her professional life.
She joined her fellow hosts on The Talk to throw a million dollar baby shower for an audience of 250 expectant moms from all over the country, airing Friday.
In between giving each member everything from upscale strollers to clothing gift certificates, to fine jewelry, Grandma O — as they call her on the show — took a moment to gush about her granddaughter.
"[Pearl's] healthy and gorgeous," Sharon said during the episode. "It's like a new life. There's nothing like it, nothing like to witness it. It's just an amazing event."
The mom of three also discussed her soon-to-be daughter-in-law Lisa allowing her into the room during delivery — an experience she will not soon forget.
"You go through every emotion," she says. "You go through joy and you thank God that everybody is healthy and happy. You realize how lucky you are. It's like life has gone full cycle in our family."
Vodpod videos no longer available.
— Dahvi Shira