Review: Kinderwagon Hop Tandem Umbrella Stroller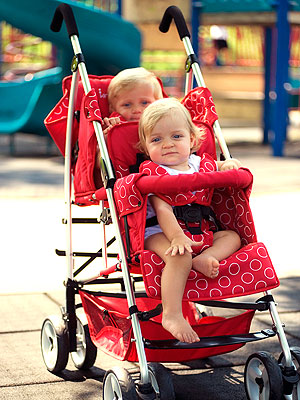 Courtesy Kinderwagon
You know a stroller is unique when moms on the street stop to ask you about it. But when they offer to buy it from you on the spot, you know you're pushing something special.
And that's what happens when you take the Kinderwagon ($299) for a spin.
The light double stroller (designed by a real mom of three!) is built narrow to fit almost anywhere and collapses easily when you're on the go.
And, thanks to very cool stadium-seating, your second passenger can enjoy the view along with your first.
Click below to read our review:

Things We Like:
Designed by a mom who couldn't find a stroller to meet the needs of her growing brood of kids, you can tell the Kinderwagon was crafted with care.
It checks three major elements off the tandem stroller wish-list: weight, pushability, and collapsibility. And at 21.5-lbs, the stroller is light enough for any supermom to toss into the car on her own.
It's also easy to push down sidewalks and collapses just like many single umbrella strollers — and without assistance from dad. At 20.5-inches wide, it glides down narrow store aisles, too.
A major victory for second children everywhere: Little sister no longer has to stare at the back of big brother's head. The back seat, which is positioned higher off the ground, gives your baby a good view and safely holds your littlest cargo (from birth to 40-lbs.).
The front seat (for 6-months to 40-lbs.) fits children with long legs pretty well and has a 2-position recline, while the back seat reclines in 3-positions.
With an adult cup holder, a small diaper bag and a rain cover included in your purchase, your ($299) is definitely a steal.
Things We Didn't Like:
The directions for collapsing the stroller were not necessarily mommy-friendly. The company's website could use a explanatory video to help you avoid a game of Twister on the living room floor the first time you break it down. But once you've nailed it, it's a breeze.
The removable canopy doesn't fully shield the front passenger from the sun — a big deal, especially for fair-skinned kids.
Moms & Babies Rating:
Ingenious stadium-seating makes this stroller a home-run for passengers who prefer to see where they're going.
— Amy Jamieson