Tamera Mowry-Housley Expecting First Child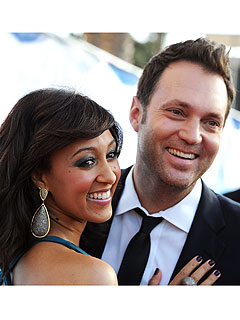 Frazer Harrison/Getty
Sister, Sister is still in sync.
Ten months after her twin Tia welcomed her first child, Tamera Mowry-Housley is now expecting a baby of her own, the actress confirms exclusively to PEOPLE.
"Adam and I are excited about having a baby and the blessing that he or she will bring to our lives and to our family and friends," Mowry-Housley, 33, tells PEOPLE.
"We can't wait to meet this little miracle!"
The expectant mom and Housley, a National and International correspondent for FOX News, will welcome their first child in early November.

"The first trimester was a little rough. I was extremely fatigued and had morning sickness — more like evening sickness," says Mowry-Housley, who will star in FOX's new pilot, Rebounding.
"Luckily, it has subsided in my second trimester. I feel great as of now — more like myself."
The news comes as a bit of a surprise to fans. After tying the knot with Housley, 40, last May, the newlyweds made it clear that kids weren't in their immediate future.
But the couple's stance on the subject shifted after an "amazing" trip to South Africa — and, subsequently, a huge change of heart.
"It's just so beautiful there and you get a whole new perspective on life, the things that really matter," Mowry-Housley explains to PEOPLE. "Adam and I looked at each other and said, 'Why wait?'"
But while the announcement may have come as a shock to some, Tia — who is mom to son Cree Taylor — not only saw it coming, but she was more than ready for it!
"Her first reaction [when I called to tell her] was, 'I KNEW it!'" the reality star — who will appear alongside her sister on the second season of Tia & Tamera, premiering June 11 on the Style Network — shares. "Tia is beyond thrilled. Cree now has a play date in the future!"
— Anya Leon