Vanessa Lachey: Husband Nick Is Nesting Too!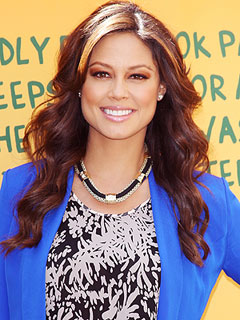 Michael Tran/FilmMagic
Less than a year into their marriage and Nick and Vanessa Lachey will soon be pushing a baby carriage.
But the couple's history together — they dated five years before tying the knot — has made for a smooth transition both into married life and upcoming parenthood.
"This whole process is going on in our first year of marriage, which everyone says is the hardest," the mom-to-be, who is partnering with P&G for their new Take a Load Off campaign, tells PARADE.
"We were comfortable with all of the little things that would normally get into people's way … It's about knowing this is the person you will be married to for the rest of your life. There is nothing unforgivable; he is my partner."

Just as her husband does his share around the house including the dishes and laundry — "It's not 50-50. It's 100 percent on my end and 100 percent on his end," she explains — Lachey reveals that the excited future father is brushing up on all-things baby, too.
"I have [been nesting] in my mind, but I've been a little consumed with work. But the interesting thing I've noticed is my husband is nesting," the Wipeout host, 31, shares.
"He saw this old table we have and he sanded it, then he stained it, put glass on it. He made us a desk! It was pretty incredible."
The Sing Off host's handiwork led Lachey to do a little prepping for baby herself. "Now I feel guilty so I think because of that I tried to put the stroller together the other day," she says.
But it was Nick's knowledge of their unborn baby — and the milestones! — that really took her by surprise. "Some of the books are inconsistent on when the baby can hear me and outside voices. I told [Nick] the other day that the baby could hear him now and he corrected me!" she laughs.
"He was like, 'No, actually according to my book…' When that time does come, I know he's going to sing to the baby every single day."
Lachey, who is hoping for a baby boy, has also been dealing with her fair share of pregnancy cravings, but is determined to let her brain do the deciding — rather than her belly!
"I think it's important to let yourself indulge, but what I eat, what I put into my body, goes directly to my baby," she muses. "It makes you think, 'Do I really want to get that Snickers bar snack or do I want to get a bowl of fruit?' So then I go for the fruit and the antioxidants."
Revealing her motivation is to "still … have me" after baby arrives, the expectant star is the first to admit that, despite her best efforts, she still gives into her sweet tooth on occasion.
"I don't want to start at ground zero to try and get back to that," Lachey says of her postpartum weightloss. "But of course I'm human and after we went out to dinner last night, I had a bowl of ice cream."
Although her hectic work schedule is "taking a lot of my time," this summer will be all about Lachey and her little one's upcoming arrival.
"My last three months I'm just going to be all about baby," she shares. "Take off work, completely nest, fold all of the clothes and do the laundry. Just get everything ready."
— Anya Leon