3 Cool Crafts to Try with Your Kids
To encourage families to spend quality time creating their own art, Los Angeles based artist and designer, Karen Kimmel, started Crafting Community in 2008. But it wasn't until she partnered with Kid Concierge's Tait Chatmon and Stacy Bernstein that she fully realized her vision.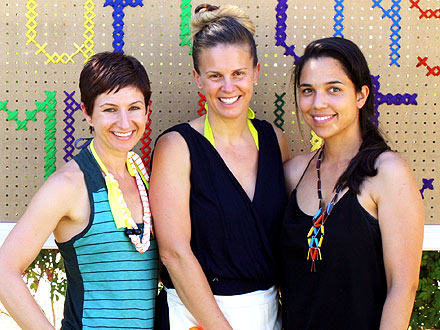 Courtesy Crafting Community
Each year, the three mompreneurs throw fun-filled crafting events for the whole family sponsored by kid-friendly companies including Splendid Littles, Converse and more.
Lucky for us, they've shared three of their coolest crafts that you can do at home with your children. Check them out below: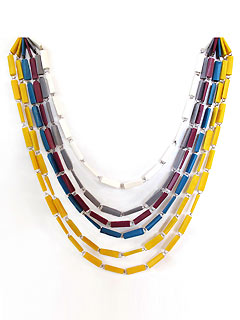 courtesy Crafting Community
Project: Paperclip Necklace
Craft time: 1 hour and up
What you need:
Paperclips, Colored tape, Pliers, Jump rings
Step 1: Wrap a paper clip with tape.
Step 2: Hook more paperclips together until a brilliant idea comes to you.
Step 3: Use jump rings with jewelry pliers to create a railroad design, multi-strand design…
Step 4: …or a necklace. Have fun with your design…anything goes!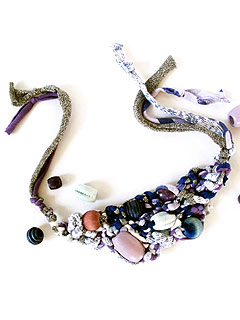 courtesy Crafting Community
Project: Fun with Fabrics
Craft time: 40 minutes and up
What you need:
Thin strips of colorful fabric (we used repurposed Splendid fabric, but you can use an old t-shirt or any other fabric you have lying around), Large beads, A thin wooden dowel to push the fabric through the beads
Step 1: Choose a few strips of fabric in interesting colors that look really, really great together. Stripes, solids – mix it up!
Step 2: Now pick out some beads that you want for your design. Start by knotting, braiding and wrapping your fabric. After you get a good flow goin', you can integrate your beads with a few knots.
Step 3: You're on your way to a marvelous necklace, belt or headband!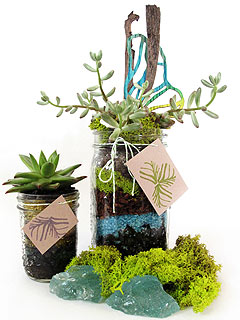 courtesy Crafting Community
Project: Succulent Garden
Craft time: 30 minutes
What you need:
A succulent plant or two, Canning jar or other glass container, Pebbles, sand or colored rock (or all of the above!), Decorative moss, Potting soil, Woodchips or mulch
Step 1: Grab a canning jar and a succulent plant. 
Place a scoop of soil at the bottom of the jar.
Step 2: Nudge a sprig of decorative moss into place on the side of the jar so that it will be visible.
Step 3: Add another scoop of soil and some woodchips. Add a pinch of colored rock—again, on the edge of the jar.
Step 4: Finish off with 2 scoops of soil. Place succulent in last and make sure it's seated over the 2 scoops of soil so the plant can take root.