Hilary Duff: Motherhood's 'Biggest Shock' Is No Sleep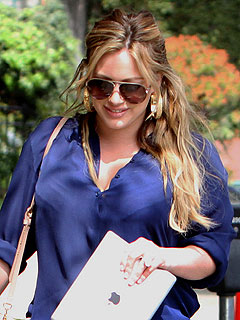 INF
After the arrival of son Luca Cruz, first-time mom Hilary Duff thought she could do it all.
That is, until the actress received the "biggest shock" of life with a newborn: the lack of sleep!
"The first week I was like, 'I'm doing this, I'm good. I can not sleep, I can do this.' I don't know where you get that energy from," Duff, 24, tells PEOPLE. "Then it hits you — the fatigue."
Fortunately, it didn't take long for Duff to adhere to the number one parenting advice she received throughout her entire pregnancy.
"So many people were like, 'Take naps when your baby naps,'" she recalls. "So I tried and it really helped a lot. I thought when he was napping that was the time I could do all the things I needed to do. It's a fine balance."

But two weeks later the late-night feedings turned a corner and Luca has been nothing short of a star sleeper, the proud mama raves.
"He's really a good baby, I promise. He sleeps really well and he's on a good schedule," says Duff. "He sleeps a good five and six hours a night, which is just amazing. I am so grateful."
Despite the stroke of luck when it comes to her easy-going son — Duff admits she was a "terror" of a baby — the new mom is still hoping that Luca doesn't prove to be too good to be true.
"I'm waiting for the tables to turn. I'm like, 'How do I have this wonderful baby?'" she says with a laugh. "[My mom] said when I came, she was like, 'Where can I send you back?' It was nothing like with [my older sister] Haylie."
With each day bringing small milestones for the 5-week-old, Luca's latest accomplishment is his sweet smile, according to Duff. New dad Mike Comrie, however, isn't quite convinced.
"He's staring at your mouth when you talk to him [and] he laughs a little bit," she says. "My husband keeps telling me it's gas and I'm like, 'No, he loves us so much, he's already smiling.'"
All the emotions of becoming a mother has prompted Duff to partner with Johnson's Baby Cares for their Save the Children campaign, which reaches out to families in need during natural disasters.
"It's a crazy statistic to learn that 90 percent of American children are living in a high risk area for natural disasters. I can't imagine what it would feel like being in the thick of that," she admits.
"Really wanting to get involved," part of Duff's contribution to the campaign has been helping in the assembly of the 5,000 Johnson's Baby Care Kits. "It can help so many people just to have these kits ready to be sent out in times of crisis and need," she says, adding that she uses the line of products on her own son.
"I grew up with [Johnson's Baby] so it has memories tied to it. It's nice to keep the legacy going."
Having once been told she could never grasp the sudden surge of a parent's heart until she was one herself, Duff shares that it has all come full circle — and she's got the unconditional love to prove it.
"You don't realize it, you can't understand it until it happens," she notes. "You're holding your baby and looking at him and your husband and thinking, 'I would do anything for you.'"
— Anya Leon with reporting by Julie Jordan