Josie Maran's Blog: My Recipe for a Healthy and Happy Pregnancy
Thanks for welcoming our new celebrity blogger, Josie Maran!
The face of Maybelline for years, the model, 33, has also dabbled in acting, appearing in Van Helsing, and reality TV, where she took a spin on Dancing with the Stars.
In 2007, Maran established Josie Maran Cosmetics, her own natural product line. Since the launch, the Argan oil-based skincare and cosmetics have been the recipient of various industry awards.
Expecting her second child in July, Maran currently lives in California with her husband, Ali Alborzi, and their 5½-year-old daughter, Rumi Joon.
You can find her on Facebook and on Twitter @josie_maran.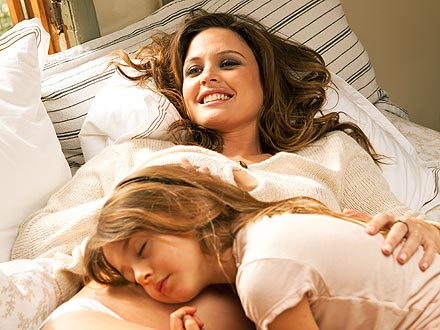 Cuddling with Rumi Joon – Courtesy Josie Maran

When I was pregnant with my first baby, people kept giving me advice. "Don't exercise too much." "Stay in shape." "When you're pregnant, you get to eat whatever you want." "When you're pregnant you have to be extra-careful what you eat."
It got kind of crazy, trying to figure out which advice to follow.
Now that I'm pregnant for the second time, I'm taking my own advice and focusing on what works for me. All you mamas-to-be, I hope you'll do the same. But just in case you'd like to mix it up with some tips from a second-timer, here's my not-so-secret recipe for a healthy and happy pregnancy.
1. Stretch
My body goes through so many changes when I'm pregnant, and prenatal yoga helps me ease my way through them.
Kundalini yoga is my favorite. It helps me relax and build up the breathing skills I'll need when I'm in labor.
2. Figure Out What Kind of Childbirth Is Right for You
When I was pregnant with my daughter Rumi, everyone seemed to have an opinion on how I should give birth. As soon as I started researching my choices, I realized that the most natural way of giving birth was going to be best for me.
Rumi was born at home, outside, and it was an incredible experience. I'm planning the same kind of birth for my second child.
If you want my advice (!), I'd suggest that you explore all your options and then decide what'll work best for you (and convince the others involved, if necessary).
3. Connect with Your Partner
Before you're plunged into the craziness of life with a newborn, take advantage of time alone with your partner.
My husband and I have been "dating" lately, taking walks on the beach, going to the movies, staying up late talking about our new little one and how we're going to partner in parenting him or her.
It's sweet to get in touch with our inner romantics.
4. Spend Quality Time with Your Belly
I take a few moments every day to do simple things that connect me to my baby, like singing to my belly. When I was pregnant with Rumi and for a long time after she was born, I sang "You Are My Sunshine" to her all the time. It helped me bond with her.
I also take mercury-free fish oil capsules for my baby's brain development. Every time I take one, I think about having deep conversations with my little bean about the wonders of the world.
The most important thing is to cherish this super-special time. What could be cooler than carrying a life inside you? Pregnancy is a great excuse to pamper yourself (in healthy ways, of course!), and accept it gratefully when your partner and others do the same. Enjoy!
Talk to you all next month.
With love,
— Josie Maran