Nicole Sullivan: My Kids Were Early Talkers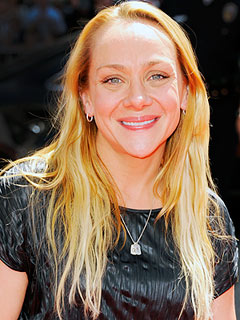 Suntzulynn for LE/Splash News Online
Not unlike mom, both of comedienne Nicole Sullivan's sons, 5-year-old Dashel Pierce and 2½-year-old Beckett Edward, immediately took to expressing themselves.
"They were really early talkers," she tells PEOPLE. "My first son could speak by the time he was 14 months; He was speaking small sentences."
Though, the feat was not without its setbacks. "They learn to complain a lot sooner that way," Sullivan, 41, jokes. "They get to exercise their options to say no to a lot of things."
Luckily for the actress, her sons don't put up much of a fight when it comes to eating healthy, something Sullivan works hard to achieve in her home since joining the Jenny Craig program after her second pregnancy.

"They'll never remember a time when I didn't eat vegetables or go for walks or go for runs," she says. "Giving your kid that sort of example to live up to or live with, I think that's the biggest thing. We're always looking for leg-ups to give our kids and giving them the idea that healthy is normal is a big leg-up."
In addition to nutrition, Sullivan invites her boys to share in her other biggest passion – acting – as well, though not always on set.
"The last thing I need is for them to be in the middle of the shot," she says of her stint as a therapist on Cougar Town, "or me yelling, 'Don't eat that off the floor!'"
But just because they don't often see mommy at work, Dashel and Beckett are not completely unaware of Sullivan's day job.
"When they say they're pretending to go to work, they pick up a bunch of papers, because they see me carry scripts around. That's their version of work," she says. "[But] they know my cartoon stuff. They know that I do voices on the cartoons, and they love that."
— Kiran Hefa