Molly Sims: I Ate Four Desserts In a Day!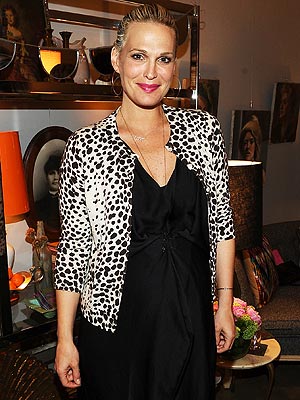 Michael Buckner/Getty
Pregnancy cravings have kicked in full force for Molly Sims — and for the mom-to-be it's dessert time that seems to take the cake.
"Yesterday I had three desserts. I literally had a Sprinkles red velvet cupcake, this little piece of Marzipan bundt cake, and sorbet," Sims, 38, tells PEOPLE during Kishani Perera's Vintage Remix book launch Wednesday in West Hollywood, Calif.
"Oh, that's right, and I had some frozen yogurt: cake batter with graham cracker crust."
But Sims isn't sweating all her little splurges throughout the day; She is "totally" loving the freedom of indulging her sweet tooth as she awaits the arrival of her baby boy in June.

"It's amazing because you know that old saying, 'You're just a stomach flu away from a size two?' I'm 12 stomach flus away from a size two now and you know what? It's okay," she says.
As much as she's enjoying the benefits of pregnancy, Sims has also had to adjust to the hardships — including suffering from a serious lack of shuteye — as well.
"I'm having trouble sleeping," she admits. "You go side to side, you put a pillow over, you put a pillow under. I'm surrounded by pillows and I put the air conditioner on 50."
The former model is experiencing an ever-changing figure — including a few new (and much-appreciated!) assets — and has documented her growing baby bump since the start of her journey.
"I love from my chest up. You find a cottage-like cheese layer on different parts of your body including your calves," Sims  — who's working on a nursery with interior designer Perera — shares.
Still, nothing can deter Sims's waves of excitement, and occasional uneasiness, over welcoming her first child with husband Scott Stuber.
"My girlfriend was asking yesterday if I was nervous and I'm totally nervous because it's the unknown — it's something that you don't know," she explains. "I am a little nervous about the delivery and breastfeeding. I hope I can do it, I hope we come through. I am so excited to meet him and just hold his hand."
One thing Sims and Stuber aren't stressing over? Baby boy's name. "We had name day on Saturday," she says. "We got it narrowed down to about 12 names."
— Anya Leon with reporting by Patrick Gomez