Piggy Paint: Eco-Friendly Nail Polish for Kids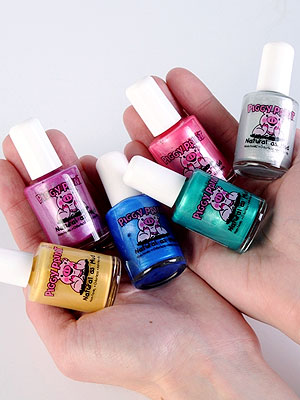 Courtesy Piggy Paint
While painting her daughters's nails one day, Melanie Hurley noticed that drops of the traditional nail polish she was using were eroding the foam plate underneath.
Luckily, this unpleasant sighting led to a mommy call to action because it was then that Hurley decided to create a safer alternative — Piggy Paint.
The collection, which includes several bright solid and glittery colors, is made with a chemical-free, water-based formula making it completely non-toxic and odorless.
Plus, it offers the same salon-quality manicure as other polishes.

It's no wonder celeb moms including Jessica Alba, Tori Spelling, Marcia Cross and Alyson Hannigan are fans.
To shop the full line (including the acetone-free polish remover), go to piggypaint.com. Added bonus: Until July 16, you'll receive 15 percent off your order when you enter code: people at checkout.